Wizard Magazine/ Toyfare Magazine Copyright 1998 and 2000 Gareb Shamus Enterprises

PREVIEWS Catalog Copyright 2001 Diamond Comic Distributors

Wizard Magazine # 103 ( April 2000 ) Wizard features a Letter Art Contest in each issue which calls for fans to illustrate the outside of any envelope with their favorite comics related character. I decided to do my favorite character Superman, so I took a standard #10 envelope an did a rendering of the Man of Steel in pen, ink and watercolors in my best "Alex Ross-ish" style! I waited what seemed like an eternity, checking issue after issue of Wizard and then finally...I managed to win Letter of the Month!!  I was pleased with how it printed. You can also see the same piece in the Art Gallery Section of our website.

*Click on cover photo to see article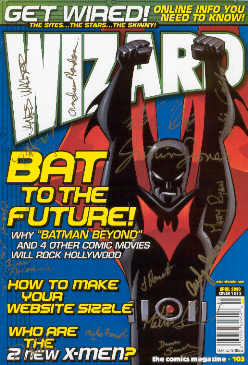 PREVIEWS Catalog ( June 2001 ) PREVIEWS Catalog, a publication which showcases upcoming merchandise from various comic book publishers, as well as other related merchandise, has a Gallery Section in each issue. I decided to do a sketch of Superman to send into the magazine. Only a few short weeks later, it was published in the June 2001 issue! Unfortunately, the actual page did not scan well due to the large moire' effect created by the printer's dots.

*Click on cover to see the artwork in the Art Gallery Section of the site.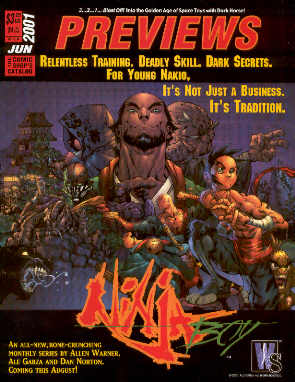 Toyfare Magazine # 6( February 1998 ) - Toyfare Magazine sponsored an "Astro City Design Contest" in which you could create any action figure you wanted based on a character appearing in the Astro City comic book. Kris Meadows and I decided to do "Samaritan", the Superman of Astro City! We sent photos of the doll in and soon after, found we had won GRAND PRIZE!!! Afterwards, we sent a photo of our winning entry to Alex Ross, who had designed him for the comic, and he wrote us back saying he really liked it. Not too shaby!! This lead to our collaborating on the "Electro-Superman" and "Bucky" dolls for Toyfare Magazine as well(See Doll Gallery).

*Click on cover photo to see article